Patron Saints
On Bright Tuesday, the first Tuesday after Pascha (Easter), we celebrate the memory of the glorious and newly manifested miracle-working neomartyrs Raphael, Nicholas, and Irene who suffered martyrdom by the Ottoman Turks on the island of Lesvos in 1463, ten years after the fall of Constantinople.
Saint Raphael was the Abbot of a monastery at a place called Karyes, which is near the village of Thermi, with Nicholas as his deacon. The Ottomans invaded the monastery on Holy Thursday, seized Saint Raphael and dragged him violently by his hair and beard. Then they tied him to a tree, beat him with a great force and struck him with preheated, red hot weapons of war for three days and nights. Finally, the Ottomans slaughtered him, first by sawing asunder his jaw from his head when he would not Deacon Nicholas' heart gave out while enduring this witness and being tortured by the tyrants, he gave up his spirit to the Lord. The twelve-year-old virgin Irene, daughter of the mayor of Thermi, was at the monastery with dozens of villagers who were also eventually martyred by the Ottomans. The sinister men cut off one of her arms, then threw her inside an earthen cask and boiled her in oil in the presence of her bewailing parents. The tortures of many martyrs that day have been compiled and are worthy of remembrance. Five hundred years after their martyrdom in 1959, they began appearing to many residents of Thermi and nearby villagers in dreams and visions. They revealed the cruel torture to which they were subjected at the monastery. They offered guidance for the excavations there which led to major findings. By the Grace of God, Saint Raphael has been calling people to repent, giving spiritual counsel and consolation and curing every kind of disease. Saints Raphael, Nicholas and Irene were canonized by the Holy Synod of the Ecumenical Patriarchate of Constantinople on the 11th day of September in the Year of our Lord, 1970.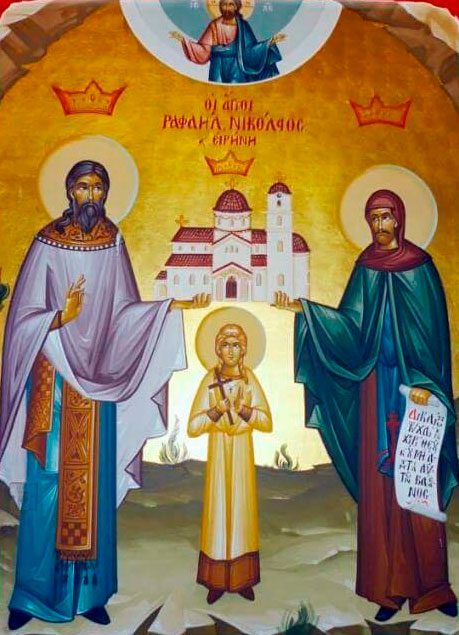 Apolitikion of Saints Raphael, Nicholas & Irene
Having contended on Lesvos for the sake of Christ God, you have sanctified the island since the discovery of your sacred relics.
O blessed ones: wherefore we honor you, O God-bearing Raphael, together with Nicholas and virgin Irene, as our divine protectors and intercessors with the Lord.
Let all of us honor as our protectors and miracle-workers the Holy Martyrs who manifestly contended for Christ, whose sacred relics were hidden under the earth for many years, and who have manifested themselves to us in wondrous ways.
Raphael, Nicholas, and divine Irene, as well as those who contended with them in a Godly minded manner.