"Building for generations to come"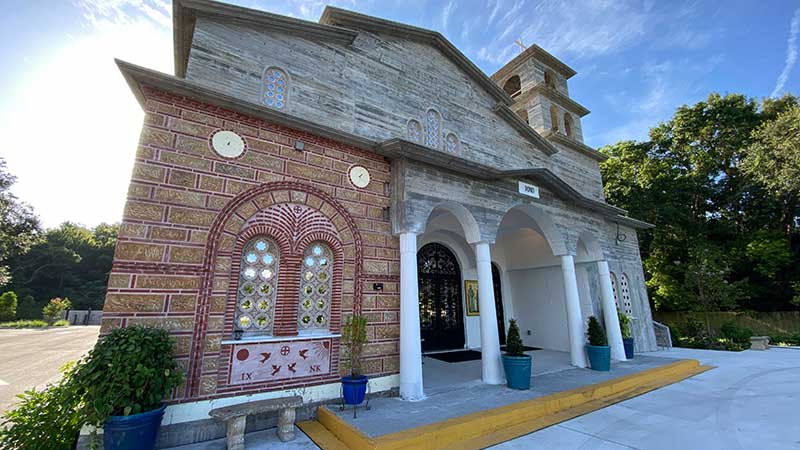 Church History
In the winter of 1996, Mr. and Mrs. Nikitas Damianakis placed their hope in God and made a leap of faith. Despite Nikitas' advanced emphysema, he and his wife Elaine made the trip from Palm Harbor, FL, to Atlanta, GA to request the Episcopal blessings of Metropolitan Alexios in order to pursue their dream of honoring Saints Raphael, Nicholas & Irene of Thermi, Lesvos. His Eminence Alexios did, in fact, grant his blessings to build the first Greek Orthodox Church in America in honor of these newly manifested saints. With neither the monies nor a priest assigned to the community, the only things certain were the call of God to build up His community and the desire to honor their beloved saints. In the face of uncertainty, the founders moved forward with vision and faith. There were stumbling blocks, but God transformed them into stepping stones. There were doubts, but God transformed them into hope. With perseverance, God took a small group of his dreamers and transformed them into a community of faithful – His Church.
In 2003 His Eminence Metropolitan Iakovos of Plomari/Erressos, together with His Eminence Metropolitan Alexios of Atlanta personally escorted the Holy Relics of Saints Raphael, Nicholas & Irene from their sanctified Monastery in Thermi to their new permanent Parish/Shrine in Palm Harbor. In just sixteen short years, the community was able to outgrow its original home and retire its existing mortgage. In September 2014, the small church was destroyed by an early morning fire caused by old electrical wiring. In the months since the fire, the community's faithful worshiped in a rented shopping center site while the Parish Council worked diligently to strategically plan the most cost effective plan that would not only serve the needs of the community but would serve as a proper and dignified home for the precious sacred relics of our Patron Saints. With the leadership of the engineering and design team of Mr. George Panayiotopoulos and Mr. Efthymios Tsaparas, the community is now embarking on a journey to build a new, authentic Basilica ~ a Traditional Byzantine style church with a dome that will be the first of its kind in the United States.
At Saints Raphael, Nicholas & Irene, we are brothers & sisters, sons & daughters, mothers & fathers, grandmothers & grandfathers. We are family! When one of us is weak, he or she can draw strength from the church. When one of us triumphs, the community celebrates. Please join together with us – Fr. George, the Parish Council and those that gave so much for the establishment of the community- and do your part to help build this new church that will provide a spiritual home for generations to come. Building our new spiritual home, will be a shared labor of sacrifice and love bringing us together in a common and sacred purpose. As we strive together, our church family will reflect a little more brightly, "Heaven on Earth."
Patron Saints
The Lives of Saints Raphael, Nicholas & Irene
On Bright Tuesday, the first Tuesday after Pascha (Easter), we celebrate the memory of the glorious and newly manifested miracle-working neomartyrs Raphael, Nicholas, and Irene who suffered martyrdom by the Ottoman Turks on the island of Lesvos in 1463, ten years after the fall of Constantinople.
Saint Raphael was the Abbot of a monastery at a place called Karyes, which is near the village of Thermi, with Nicholas as his deacon. The Ottomans invaded the monastery on Holy Thursday, seized Saint Raphael and dragged him violently by his hair and beard. Then they tied him to a tree, beat him with a great force, and struck him with preheated, red hot weapons of war for three days and nights. Finally, the Ottomans slaughtered him, first by sawing asunder his jaw from his head when he would not Deacon Nicholas' heart gave out while enduring this witness and being tortured by the tyrants, he gave up his spirit to the Lord. The twelve-year-old virgin Irene, daughter of the mayor of Thermi, was at the monastery with dozens of villagers who were also eventually martyred by the Ottomans. The sinister men cut off one of her arms, then threw her inside an earthen cask and boiled her in oil in the presence of her bewailing parents. The tortures of many martyrs that day have been compiled and are worthy of remembrance. Five hundred years after their martyrdom in 1959, they began appearing to many residents of Thermi and nearby villagers in dreams and visions. They revealed the cruel torture to which they were subjected at the monastery. They offered guidance for the excavations there which led to major findings. By the Grace of God, Saint Raphael has been calling people to repent, giving spiritual counsel and consolation, and curing every kind of disease. Saints Raphael, Nicholas and Irene were canonized by the Holy Synod of the Ecumenical Patriarchate of Constantinople on the 11th day of September in the Year of our Lord, 1970.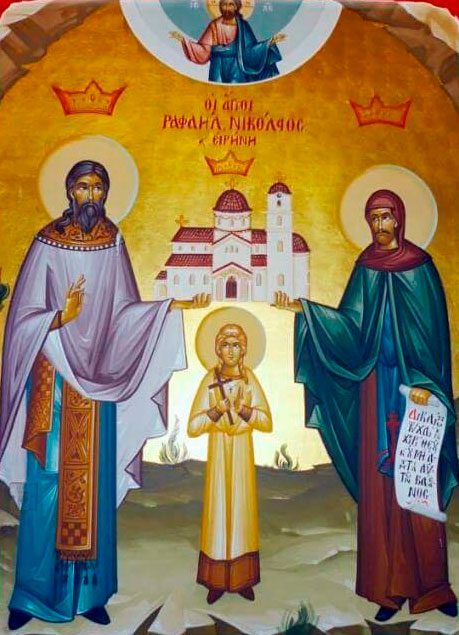 Apolitikion of Saints Raphael, Nicholas & Irene
Having contended on Lesvos for the sake of Christ God, you have sanctified the island since the discovery of your sacred relics.
O blessed ones: wherefore we honor you, O God-bearing Raphael, together with Nicholas and virgin Irene, as our divine protectors and intercessors with the Lord.
Let all of us honor as our protectors and miracle-workers the Holy Martyrs who manifestly contended for Christ, whose sacred relics were hidden under the earth for many years, and who have manifested themselves to us in wondrous ways.
Raphael, Nicholas, and divine Irene, as well as those who contended with them in a Godly minded manner.